Teen Reviews
High School
Thank you so much for putting on the "That Takes Ovaries" assembly. The overwhelmingly positive response from the students proves that the work you are doing is of the utmost importance as well as relevant and engaging to the youth of today. We couldn't be more pleased with the result.
Mark Heringer English Teacher
Advisory Coordinator Academy of Arts and Sciences High School
San Francisco, CA
All the girls from the High School attended: Approx. 200
• • •
High School and Police Department
I organized [TTO] open mike events at the local public high school. It was held on International Women's Day and conducted in conjunction with domestic violence awareness education. I was assisted by a representative of The Commission for Women and Children, La Comisaría de la Mujer y Niñez. The Commission is a special branch of the Nicaraguan Police Department that acts as a domestic violence response team. In all 131 girls participated in the open mike but they were divided by class so each open mike session had about 20 – 30 girls. The event went well. I loved the [That Takes Ovaries] book and the event was such fun.

Peace Corps Volunteer in Nicaragua
Instituto Nacional Autónomo de Quilali High School Quilali
Nueva Segovia, Nicaragua
Central America
• • •
Teen Magazine / Nonprofit Organization
The message of That Takes Ovaries, to lead a bold life, is a crucial message for teens. It fits in with Women Express/Teen Voices mission to further social and economic justice through empowering teenage and young adult women. During the That Takes Ovaries workshop, our Teen Editors gave powerful statements about their own courageous acts. That Takes Ovaries is a useful forum for teens to express themselves.
Jenny Amory
Executive Director
Women Express/Teen Voices
• • •
School for Youth with Disabilities, Kenya, Africa
I highly recommend That Takes Ovaries – 100 percent!
Barbara Karvelis
Kenya Community Center for Learning
Nairobi, Kenya
• • •
YWCA
We had 70 people in attendance–30 of those were teenage girls from a nearby residential facility, girls who have been through a lot in their lives and are living away from home due to either abusive home situations or delinquent behavior. I think nearly all of them got up and shared, mostly talking about other women who inspire them with their ovaries, though a few talked about their own personal experiences. Even those who got up and just said "I admire so-and-so because she's always there for me" were cheered on, simply because I think the sheer act of getting up in front of all those people was ovarian. And you should have seen how they supported each other—that was the most powerful thing. Partway through the program we did a "Gutsy You–Today and Tomorrow" segment again, where each woman was given a plastic egg with 3 slips of paper: 1 with an inspiring quote, 1 to write a brave deed you've already done, and 1 to write a brave deed you'd like to do.
Amanda Greubel
YWCA Event Organizer
Waterloo, IA, USA
• • •
NGO in India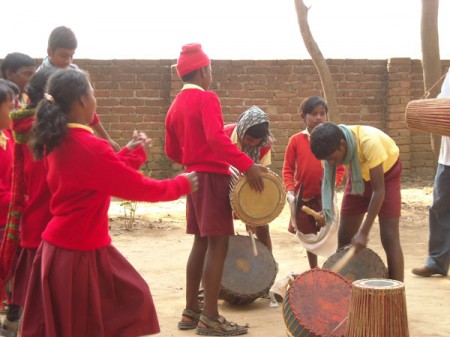 The model of empowerment that That Takes Ovaries uses with women and girls around the globe has been very helpful to us here in our women's centres situated around India, and in our work to help end sex trafficking on the India-Nepal border. The That Takes Ovaries model that we are still using here in India, long after Bobbi has left is replicable and perhaps universal, and works well both in urban and rural communities. We encourage other NGOs and women's organizations around the globe to work with Bobbi Ausubel and TTO.
Ruchira Gupta
Founder & President Apne Aap Worldwide
India
• • •
High School
At our High School event, girls went away feeling empowered, proud to be female.
Judy
Cambridge Rindge and Latin
• • •
Women and Teen Event, India
Around 60 women attended as well as a few teenagers. This time (our 6th event in Kolkata, India) the stories were far more varied : delivering a baby, etc. The magic moment finally happened,
almost at the end. A young woman came up and began by saying that she had attended the last TTO open mike but could not summon up enough courage to talk. She felt she still could not and almost went back to her seat, trembling and voice shaking and tears threatening to overwhelm her. I put my arms around her… Then she started relating how she had been repeatedly raped by an uncle when she was a youngster and how she had never been able to tell her parents and that she still has to be socially nice to the uncle… By this time everybody [in the audience] had moist eyes, some openly sniffing. It was wonderful seeing her courage and then her relief for being able to handle the ordeal of revelation. Her face was glowing…[and] looked as if a load had been lifted from her shoulders.
Mira Kakkar
That Takes Ovaries Coordinator in India
Akar Prakar Gallery
Kolkata, India
• • •