Praise for the That Takes Ovaries play
Theater Production (Boston, MA, USA)
This show can move you to laugh, move you to tears, move your spirit and quite possibly move you to action.
Jimmy Tingle, Artistic Director
Jimmy Tingle's OFF BROADWAY Theater
Somerville, MA
• • •
Theater Production (Toronto, Canada)
The That Takes Ovaries play and post-performance open mikes were a real success in Toronto, Canada! What a delight to see both younger and older women share stories of their bravery and courage, and what a treat it was to see older South Asian men brag about their wives and daughters.
Sally Jones, Artistic Producer
Rasik Arts, Devoted to South Asian Theatre
Toronto, Canada
• • •
Production on a University Campus (Virginia, USA)
We [produced and] performed That Takes Ovaries to a houseful audience at Virginia Tech in 2012 through the Women's Center. Rivka was wonderful to work with and the script can be transformative for the audience and the performers. The cast had community, staff, alumni and students, and the audience was everybody! In a seating space of 100, there were over 200 people, standing, sitting on the floor, cheering the performance and at the end of the night sharing their stories of courage. The stage was so empowering that employees who were working the event (sound technicians and facility managers) stood up and walked to the stage to give shout outs to the courageous women in their lives…it was powerful and wonderful.
Sharbari Dey
Formerly Program Coordinator
Women's Center
Virginia Tech, Blacksburg, VA
Currently Education Program Coordinator
Diversity & Multicultural Affairs
Univ of North Carolina at Chapel Hill
• • •
Theater Production (Nebraska, USA)
We felt like we really had done something extraordinary and special with the play, That Takes Ovaries, which we presented for six performances in 2010. It really moved people, men and women alike, made them think, and lifted them up. We received very positive feedback and the audience especially enjoyed the humor. They found it to be a balanced and well-done production – not too heavy, not too light –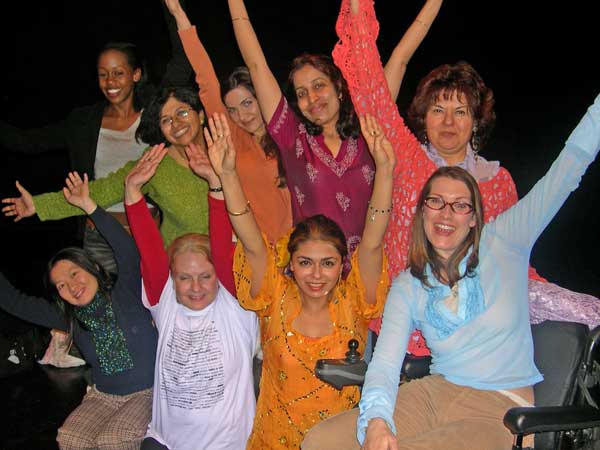 powerful and thought provoking. Great comments from the audience. The talk back was stellar. We had great questions and the largest turn out we've seen at a talk back. We had at least one [audience-contributed] story per night, which was read following the curtain call. Stories touched on: breast cancer; a rape trial; chronic fatigue syndrome; surviving divorce and life's struggles; domestic abuse; beating up bullies at age 4, on behalf of a much older brother; and colon cancer treatments with humor. It was a great experience for the audience as well as our actors and artistic team! We also received TTO play review from The Reader Omaha 2010, Daily Nonpareil, and a pre-show feature in The Reader. This summer, a few years after our production, we received a compliment about the 2010 production at a completely unrelated event, from someone we did not know. The woman said she still thinks about the play and it's still inspiring and empowering her. To us, this is the highest praise for art and the reason we do what we do.
Roxanne Wach, Director
Mary Carrick, Producer
BroadStreet Theatre Co.
Omaha, NE
• • •
Community Production (Chiang Mai, Thailand)
Oh, yes, That Takes Ovaries! The exit polls were super. We put on a play that we all can be proud of. Some men even cried at the scene dealing with child prostitution. It was joyful for me to see members of our cast who have never acted before experience the power and high. And the message we provide about courage and overcoming fear has real meaning for me this morning. All proceeds go to the Zonta International program for grandmas and their AIDS orphaned children.
Laura Godtfredsen, Director/Producer
Chiang Mai, Thailand
• • •
Production on a University Campus (Michigan, USA)
Our production of That Takes Ovaries had a resounding impact on our campus and in the surrounding community over the two years in which we had the performances. Collectively, over $5,000 was raised for local and national initiatives, close to 150 people were involved in the performances, and over 1,000 attendees came to see the play. The experience of planning and implementing the performances provided excellent leadership opportunities for our students, a platform for folks of all gender identities to engage, and the opportunity to connect with our local community. That Takes Ovaries not only provides a phenomenal mechanism for individuals to share their stories of ovarian acts, it creates an important space for dialogue and activism.
Brittany Dernberger, Assistant Director
Grand Valley State Univ Women's Center
Allendale, MI
• • •
Theater Production – Praise from an Actress (Nebraska, USA)
I am still in complete disbelief at the reactions I got to Big Beauty [a monologue about a self-described "fat girl" wearing a tank top for the first time]. Women hollered out while I did it. One group of women went immediately out to buy tank tops after the show. One local woman I know only through my husband facebooked me just to say that seeing me up there in front of all those strangers in a tank top made her rethink her refusal to wear certain things even in front of her husband. Women were empowered, motivated and improved by this simple, small act of bravery. It's a keeper. Solely from the actors point of view, I loved my 4 monologues. I got to pull out every single side of me. The 4 women I portrayed are so very different, but I really feel I have been every single one of them at some stage in my life. I also loved having my co-actors on stage with me the whole time. You were never alone out there, and I felt it drove home the theme of women supporting women, defending women, encouraging women. Doing this show was a WONDERFUL experience. Thank you so much for making it possible!
Emily Jane Thompson, Actor
BroadStreet Theatre Co.
Omaha, NE
• • •
Joint Theater & Community Production – Praise for TTO Play for Girls (Maine, USA)
Hardy Girls Healthy Women, an organization committed to ensuring that all girls are safe, independent, and equal everyday, included the That Takes Ovaries girls' play as part of our Girls Rock! annual weekend of events that celebrate girls' voices, achievements, and activism. Fourteen [girls and young women] actors participated, and then we opened up the open mike to the approximately 200 people in the audience. The café was packed and was very quickly standing-room-only. People shared during the open mike portion, with a story from a young girl stating how she was fighting for the strings (music) department to stay at her school and that so far it was still there. We heard from an FTM (female to male) person deciding to participate in a female burlesque act, as well as a story of a woman who decided she wanted to sail to New Zealand, though she'd never sailed before in her life. Despite her inexperience, onto the boat she went, impressing herself and having an amazing adventure. That Takes Ovaries fit into the [Girls Rock!] weekend beautifully and felt like a wonderful success, especially from the standpoint of attendance.
Allison Cole, Development Coordinator
Hardy Girls Healthy Women
Portland, Maine