Information for That Takes Ovaries event organizers: Invite us to your conference, campus, community or workplace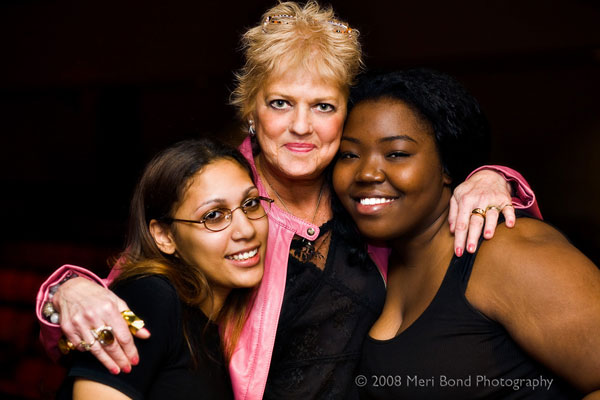 Our inspirational women's empowerment event is called That Takes Ovaries: Celebrating Gutsy Women Around the Globe.
Our event is a celebration of diverse, multicultural women's strength and courage.
This 2-hour event is offered to conferences, campuses, businesses, organizations and community groups.
Based on our book and play of the same name, 1000+ That Takes Ovaries events have been held across the U.S. and globe.
Invite our professional staff to lead this fun, transformational, audience-participatory event in your community.
Our event fees vary. Please contact us to learn more.
Downloadable document for Event Planning Committees & Decision-Makers:  TTO Invite Us/Event Info 3-pager 
Downloadable document for Government HR/EEO Decision-Makers:   Invite Us: Diversity & Gender Event for U.S. Government and Military
"Because 'courage is contagious' and because women everywhere have gutsy stories to share, our work has sparked a movement for women's empowerment and girls' empowerment." – Rivka Solomon
• • •
Our That Takes Ovaries events include
A pre-event "needs assessment" where we learn from you the issues women and all who identify with female gender are facing in your particular community (e.g. sexual assault, body image issues, eating disorders, etc.). We shape the event according to your needs and issues.
A talk/workshop where we ask, "Why lead a bold life, and why should women and girls in particular lead a bold life?"
Entertaining dramatic readings of excerpts from our play: Diverse women's true stories of gutsy and courageous deeds – from playful to political. These dramatic readings are done by women from your community who we coach in advance of the event and who then join us on stage.
An open mike: Audience members — women, men and transgender people — spontaneously share stories about times they or the women in their lives acted boldly. Each storyteller receives a chocolate egg wrapped in gold foil, a Golden Ovary Award, for their courage.
Entertaining and participatory, our TTO events raise both women and men's consciousness, benefiting male and female participants alike.
• • •
Alternatives to a That Takes Ovaries event
If you are instead interested in inviting us to conduct an Expanded Program or Training of 1 full day to 1 month, click here.
If you are instead interested in an event that focuses on how everyone (all genders) can succeed in Leading a Bold Life, and does not focus specifically on women and girls, click here.
If you are instead interested in producing the That Takes Ovaries play, click here.

The above information for That Takes Ovaries event organizers is also found on this downloadable document for Event Planning Committees & Decision-Makers: TTO Invite Us/Event Info 3-pager