Praise from NGOs and nonprofit organizations
NGO in India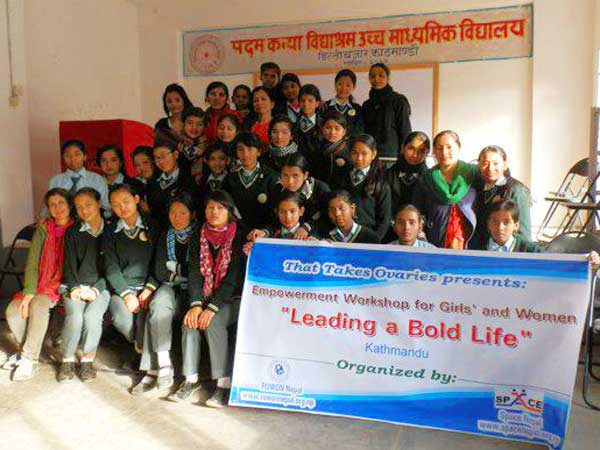 The model of empowerment that That Takes Ovaries uses with women and girls around the globe has been very helpful to us here in our women's centres situated around India, and in our work to help end sex trafficking on the India-Nepal border. The That Takes Ovaries model that we are still using here in India, long after [TTO] has left, is replicable and perhaps universal, and works well both in urban and rural communities. We encourage other NGOs and women's organizations around the globe to work with Bobbi Ausubel and TTO.
Ruchira Gupta, Founder & President
Apne Aap Worldwide, India
Full Apne Aap/Ruchira Gupta Letter of Recommendation found here. [Downloadable PDF]
• • •
NGO in Australia
We love That Takes Ovaries! Every year, Amnesty International Australia organizes a campaign that focuses on ending violence against women. We use a That Takes Ovaries event to end the campaign on a high note. Celebrating women and the bold things they do in the face of violence provides a boost to all of us!
Sasha Jesperson, Community Campaigner
Amnesty International Australia
• • •
Women's Organization
I *so* enjoyed the That Takes Ovaries play and open mike last weekend — it was absolutely fantastic! We are so glad we were able to be a co–sponsor, and we are more excited than ever about doing That Takes Ovaries as a benefit for the Boston Area Rape Crisis Center.
Sarah Bruno, Development Coordinator
Boston Area Rape Crisis Center
• • •
Latino Community Center
Our [TTO] event was a complete success. After much crying and laughing, I think every woman left knowing her heroic deeds, and acknowledged aloud that anything is possible. I would say that Rivka has forever changed our little old town of Gilroy. We are just one of the multitudes of places that Rivka has sparked this vision of courage and hope – she understands that every woman is a visionary who can succeed. Rivka's work, the book and the open mike movement, is a tool for lasting social change. She has taken the written word and given it voice – and expanded that to give others who do not usually have a voice (or a voice that is heard) – a platform for sharing their own stories.
Patricia Caradonna, Community Advocate and C.E.O
Wild Rose Cultural Center
Gilroy, CA
• • •
Pro-Feminist Men's Organization
I was simply blown away. The themes and issues explored are inspiring to all. The women's stories she compiled strike universal themes of empowerment, belonging and equity. They leave you with a feeling of connectedness and commitment to justice in your own and others' lives.
Jack Kahn, Ph.D., Co-Chair, NOMAS-B
National Organization for Men Against Sexism–Boston
• • •
Women and Teen Event, India
Around 60 women attended as well as a few teenagers. This time (our 6th event in Kolkata, India) the stories were far more varied : delivering a baby, etc. The magic moment finally happened, almost at the end. A young woman came up and began by saying that she had attended the last TTO open mike but could not summon up enough courage to talk. She felt she still could not and almost went back to her seat, trembling and voice shaking and tears threatening to overwhelm her. I put my arms around her… Then she started relating how she had been repeatedly raped by an uncle when she was a youngster and how she had never been able to tell her parents and that she still has to be socially nice to the uncle… By this time everybody [in the audience] had moist eyes, some openly sniffing. It was wonderful seeing her courage and then her relief for being able to handle the ordeal of revelation. Her face was glowing…[and] looked as if a load had been lifted from her shoulders.
Mira Kakkar
That Takes Ovaries Coordinator in India
Akar Prakar Gallery, Kolkata, India
• • •
Women & girls who have been prostituted and those at-risk for the same, and the NGO Staff working with them in red light and slum areas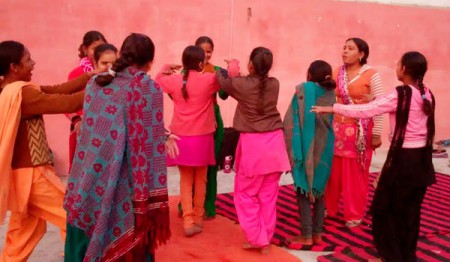 After a TTO workshop, a girl said:
"I liked sharing my story because it felt good to open my heart and let out something so personal."
A teenager said:
"No one will step on you if you are bold and fight back."
Two women participants said this upon leaving a workshop:
"I want to come back tomorrow and sit here together with these women."
"Being here made me more courageous."
A man participant said:
"I am inspired hearing the women's stories; now I will tell these stories to others."
A woman participant said:
"I heard these girls speak here; now I want to send my daughter to school." (Instead of a life of prostitution.)
Community leaders said:
"Now we will try to show [our] issues through drama."
"This made us so happy; we will bring this process to our neighbors and groups."
NGO staff said:
"Now I know how to give a workshop."
"This was the only training where no one was bored."
"We have never seen the women and girls so engaged."
"I thought I could not work well with this community, but after today, I know I can."
A teenager at a workshop passionately said:
"We are going to close this red light area!"